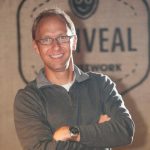 Who doesn't like a good David versus Goliath story? You know, the nerdy kid at school who has the last laugh at the expense of the most popular kid. Or the low seeded team defeating a high seed in a key game. Or what about the current Xero versus QuickBooks drama that is being played out in the accounting software space? These are all David versus Goliath stories; metaphors for nearly impossible victories and overcoming obstacles in our lives.
In true Malcolm Gladwell fashion, the author uses a narrative framework to drive home his points. In David and Goliath, Gladwell makes a case that perceived weaknesses are often hidden strengths, and disadvantages are actually huge advantages. He starts with the biblical story of a battle between David and Goliath. In short, Goliath was a big and proven warrior who challenged a neighboring military to send their best to fight him on his terms. The fear and trepidation of this challenge was too much for everyone but a young shepherd boy who relied on his strengths, his strategy, and his execution. David came to battle with a sling that he had mastered in the fields fighting animals and protecting himself and his flock of sheep. The precision of his weapon of choice and his courage actually gave him a huge advantage against the clunky battle gear and cocky persona used by Goliath. David's unconventional approach produced victory. He looked straight at the challenge, chose his tools, and invoked the courage to go for it… all the actions that entrepreneurs take on each day.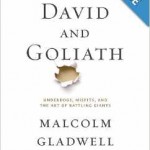 Two stories in the book drove home for me the points Gladwell was making with perceived weaknesses and disadvantages. Let me summarize them for us.
The Advantages of Disadvantages
This is a story of a science student choosing to go to an elite university versus a good university and what it means to be a Big Fish in a Little Pond or a Small Fish in a Big Pond.
Rarely do we stop and consider whether the most prestigious options are in our best interest. At a prestigious university we are thrust in as a small fish in a big pond whereas, at a good university we can find ourselves to be a big fish in a small pond. The pressure of living up to the highest of standards and intense competition can destroy the psyche of people and actually impact their ability to carry on successfully in a meaningful way. How you feel about your abilities in the context of your classroom or your work environment shapes your willingness to tackle challenges and finish difficult classes or work…this is crucial to our motivation and confidence in our lives and in our careers.
The dropout rate for students in prestigious schools is at the same level as for students in good schools.  So a drop out from a prestigious school, who likely entered the program at a higher level than a good student in a good school, is placed in the same predicament as another low performing drop out. What is probably more important than gaining acceptance to a particular school is the importance of actually completing a degree program. And success in a degree program is largely how you feel relative to the other people in your classroom. What this tells us is that some promising students in prestigious schools drop out, and some good students in regular schools excel and go on to lead successful careers. What set them apart was tied closely to how they felt and performed in relation to others around them.
Being on the outside in a less elite environment can give you more freedom to pursue your own ideas and academic interests. This is very much the case for entrepreneurial minded CPA's who branch out on their own. We leave the prestige of traditional firms and capitalize on our alternate strengths of experimentation, care and hustle to overcome the small fish in a big pond predicament.
The Theory of Desirable Difficulty
This is a story of the impact of dyslexia on an individual and how a perceived disadvantage is not something to be avoided, but rather a desirable difficulty.
David Boies had trouble reading because of his dyslexia, but he rose to the top of the legal profession by listening well and learning to memorize what he heard. After having struggled all his life with dyslexia, he developed coping skills which allowed him to capitalize on his strengths and limit his weaknesses. In law school, while others worked hard at writing notes and outlines, he chose to listen and apply his keen memorization listening techniques. Upon graduation, he chose litigation which allowed him to capitalize on listening and communication skills rather than corporate law where heavy and laborious reading would be required.
The lesson here is that what is learned out of necessity is inevitably more powerful than learning that comes easily. What are the desirable difficulties for a young CPA firm… less capital and small budgets, few customers, slow market acceptance? While others rely on big technology budgets and a high churn of customers, we can apply ourselves to a unique service offering that fills the needs and desires of a niche industry or specific customer type. Starting your own business will force you to assume roles that you may have never experienced before. Out of necessity you will be forced to learn and make decisions… this is where entrepreneurs learn and apply gut instinct and stand out from the masses.
So what is the message of David and Goliath that entrepreneurial CPA's need to take away from this book? These stories (and there several illustrations under each story line) all demonstrate gifts that equalize things for the underdog in all of us… ideas, motivation, commitment, perseverance, and a belief in something better. We can embrace the underdog role and change the lives of those in our sphere of influence.
As the founder of Kregel & Company, Scott holds the firm accountable to keeping a customer-focused mindset every day. He is passionate about coming alongside others in their pursuit of doing good. You can often find him within a 10 mile radius of the office training for his next marathon. He also loves bringing out the best in his three children, reading business and leadership books, and dreaming up his next great idea.