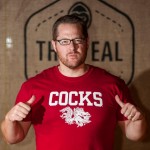 I had Liberty Tax Service do my 2013 taxes. Don't judge me.
I went because of Walt Disney. I heard he was inspired to create Disneyland because he was grossed out when he took his kids to some nasty carnivals. So I thought about what would gross me out in the accounting profession, and decided to go to Liberty Tax Service – the carneys of the accounting profession – for inspiration.
I arrived at Liberty Tax at 11:00 a.m. on Presidents' Day. The open-concept office was austere: two small fake trees, white walls, fluorescent lights. The "waiting room" area had some toys for kids to both play with and contract hepatitis from. I assumed it was a temporary office. I was later told that it's year-round.
And that didn't bug me. Personally, I don't need a lot of frills and I like to think of my kids as hepatitis-resistant. Also it seemed to reflect their business model. I assume Liberty Tax competes on price. That's a crappy but valid strategic position, and a good way to communicate your crappy but valid strategic position is with a crappy but valid office. And by "valid" I mean barely adequate.
In retrospect "Barely Adequate" should be the Liberty Tax tagline. But according to the three plastic-framed posters (which were the only things "decorating" their walls), their real motto is "Trust in Liberty. We're accurate … professional … friendly." And nothing says "we're professional" like a dude in a green toga with a pedophile mustache wearing a Statue of Liberty headdress.
And I didn't even tell you about the &%# damn radio. It was perfectly tuned to make you believe that it was close to a radio station, but not close enough to identify any actual songs through the grating static.
I was the only customer there and was greeted by the employee who was not expected to dance in public. I'd like to tell you her name, but I can't because she never gave me her name. Or her social security number. I gave her both.
Before anything else, I told her my demands: I would only have Liberty prepare my taxes if she gave me 20 minutes in the Statue of Liberty costume. She agreed, and by doing so, she totally left money on the table. I would have paid up to $20 for the experience of being a Statue of Liberty street-corner sign-dancer. They failed to capture that value.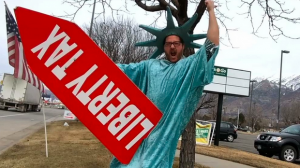 But who cares? This is all familiar territory. You need to look at your office and your people from the customer's perspective, and make sure that both your explicit and your non-verbal messages are aligned with your firm's vision. Got it. Some people like a nice office with a gregarious staff. Some people prefer a Spartan office with a no-nonsense preparer. Nobody likes a static-y radio, however, so change that now. Seriously, stop reading and go fix the damn radio.
But here's where it gets real.
Shortly after we got started, I told her that I wanted to know their fee schedule. She said that she needed to enter some info into the computer before she could address fees. I'm cool with that. She has to get an understanding of the scope of the engagement to be able to price me appropriately.
At one point I asked her if her boss made her fill out a timesheet, and I was happy that she had no effing clue what I was talking about. So I started to believe that Liberty Tax may be more enlightened about pricing than most CPA firms.
They aren't.
After an hour and a half, she completed my return, and I was supposed to come back the next day because she needed "the main guy" to review it. She said it looked like I was going to get a $1,000 refund from the Feds, but I would owe about $500 to the Great State of Utah. And she said nothing about how much she was going to charge me.
I purposely didn't ask. Because I'm a scientist. I brought it up early on. She knows it's on my mind. I have to believe that everybody who comes in wants to know how much Liberty's services cost. I let her drive the conversation on price, and she parked it like a 1975 Chrysler Cordoba.
So that's when I went out and danced. Whether or not I caught herpes from the costume is still undetermined.
I came back the next day. The first thing I asked was how much it was going to cost and implied that I could still go somewhere else if the price was unacceptable.
She still didn't know the price. She did tell me, however, that she accidentally entered my mileage twice, so instead of a $1,000 refund, I owed $1,300 to the Feds and $550 to Utah. They managed my expectations, as in, they managed to ruin my expectations.
It was apparent that she was messaging back and forth with "the main guy," and based on my experience, I don't think they have an actual fee schedule. I think the main guy just pulls a price out of his butt and messages it to the nameless lady.
(Let's get you primed for this. It's a joint tax return, two dependents, itemized deductions, a Schedule D, and two Schedule Cs (one's a bit involved, the other's very simple). All documentation was clean and provided during the initial meeting.)
After sitting and chit-chatting with nameless lady for a bit, she must have finally gotten the price from the main guy and said that it was going to cost $602. I said politely, yet quite involuntarily, something like, "Are you &%$#ing kidding me?!" And she immediately – I mean immediately – replied, "But we can give you 50 percent off." She wasn't billing and ducking. She was billing while ducking.
I agreed, and I paid, and I found out how to change our profession from a bunch of hairy-armpit carneys into Disneyland.
Do you remember how it feels to take your car in for its annual state safety inspection? That's how your customers feel when they come in to get their taxes done. When you go in for your safety inspection:
You don't want to be there; you have to be there.
You suck at cars, so you can't call BS on the mechanic.
You seldom if ever have the time or energy to shop for a better mechanic.
Even if you did shop for a better mechanic, you don't really know what you're looking for. In a word, your customers feel powerless.
Actually, your customers are doubly powerless. At this point, they can't do anything to change their tax liability. They're just clenching up their butt cheeks waiting for you to give them the bad news about their taxes and the bad news about your fees.
To become the Disneyland of accounting, transform your practice into a place where people come and feel empowered.
Empowerment comes from choice. When I make active choices that determine a known outcome I am empowered.
How can you empower your clients regarding your services?
Offer multiple service levels with fixed pricing
Find a way to enable them to compare your service levels and pricing with your competitors (like Progressive Insurance)
Manage their expectations regarding (1) your price, (2) their tax refund or payment, (3) the amount of time it will take them (not you) to get their taxes done, and (4) the number of times they will have to come back to your office (I had to go to Liberty a total of four times, never because they needed more information)
Highlighting choices they could make going forward that will change their outcomes next year.
You need to understand that all new clients – and possibly many existing clients – expect to not enjoy their experience with you. Change that and they'll flock to you.
If you've got other ideas or existing practices that make your customers feel empowered, I'd love you even more if you share them in the comments.
Greg was born in Akron, Ohio, in the shadow of the Firestone tire factory. He began to swim competitively when he was eight, swimming for the Mountlake Terrace Lemmings. He graduated in 1995 from the University of Washington with a math degree. He chose math for the ladies. After serving ten-years as an 8th grade math teacher, he decided it was time for a career change, mainly because he "couldn't stand those little bastards." He began his accounting career with a local CPA firm in Orem, Utah, where he consistently failed the QuickBooks ProAdvisor advanced certification exam. Greg currently works as the Controller for the Utah Valley Physicians Plaza. He lives in Provo, Utah, with his wife and two kids. He enjoys eating maple bars, drinking Diet Pepsi, and swearing.