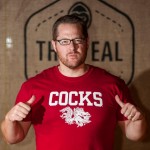 Sometimes we choose to be stupid because it's the easiest way to ignore the fact that we live in a state of bowel-evacuating fear.
We live in an age of disruptive innovation. The only way to survive the long game is to disrupt ourselves before we get disrupted – to take risks that will take away what we've got and replace it with something better. But we don't do it because we're scared, and since evacuating your bowels is embarrassing, we act stupid instead.
There's an expression we all use: "Easy come, easy go." But that's bullcrap. We came up with that expression because it's never "easy go." It's always hard go. Humans are psychologically predisposed to be afraid of losing what we've got, so we're afraid to take risks.
Everyone's risk averse. It's not so much that we suffer from risk aversion. We suffer from loss aversion. Which – when you think about it – is really just another name for risk aversion.
And loss aversion is stupid.
Don't know if you knew it, but Dan Ariely hates me. Regardless, I still love him. It's not so much that he hates me. He hates my sense of humor. Which – when you think about it – is really just another way of saying he hates me.
Ariely says, "We focus on what we may lose, rather than what me may gain," and, "In general the ownership of something increases its value in the owner's eyes," and, "What did I eat? My farts smell horrible." The first two come from Predictably Irrational. The last one is just something everybody says. You're not better than me, Dan.
Remarkable individuals play to win. But most of the time, we're not playing to win; we're playing to not lose. Before the Super Bowl, Pete Carroll didn't psych up the Seahawks by saying, "When I look around this room, I see a bunch of non-losers!" But that might be what John Fox said to the Broncos.
So instead of playing to win, instead of innovating, instead of raising our prices, we convince ourselves that the timing's not right. In Purple Cow, Seth Godin says,
If times are tough, your peers and your boss may very well say that you can't afford to be remarkable. After all, we have to conserve, to play it safe; we don't have the money to make a mistake. In good times, however, those same people will tell you to relax, take it easy; we can afford to be conservative, to play it safe.
But I'm not sure that Seth's right. Yeah, your boss might say that. I don't know. Your peers may say it, too. I have no idea. What I do know is that you say it. I know I say that to myself – all day long – and I project it onto my boss, my peers, our partners, our customers, the janitor, and the HVAC system. But really it's me.
We're too scared and dumb to become awesome. And when I say "we're too scared and dumb" it's just another way of saying I'm too scared and dumb. In this post, I've clearly been projecting my stupidity and bowel-evacuating fear onto you, and you don't deserve for me to project my evacuated bowels on you.
What risk do you know you're supposed to take? Commit to do it, get people to hold you accountable to it, and do it. If you wait for the timing to be right, you'll never do it because it's never the right time to be awesome. Which – when you think about it – is just another way to say it's always the right time to be awesome.
Greg was born in Akron, Ohio, in the shadow of the Firestone tire factory. He began to swim competitively when he was eight, swimming for the Mountlake Terrace Lemmings. He graduated in 1995 from the University of Washington with a math degree. He chose math for the ladies. After serving ten-years as an 8th grade math teacher, he decided it was time for a career change, mainly because he "couldn't stand those little bastards." He began his accounting career with a local CPA firm in Orem, Utah, where he consistently failed the QuickBooks ProAdvisor advanced certification exam. Greg currently works as the Controller for the Utah Valley Physicians Plaza. He lives in Provo, Utah, with his wife and two kids. He enjoys eating maple bars, drinking Diet Pepsi, and swearing.