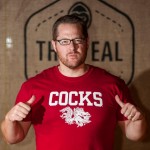 I tweet jokes. It says that right on my Twitter profile.
So on October 10, I noticed the headline "Why Accountants Must Focus More on Fraud," and at 10:25 EDT, I composed the following brilliantly hilarious tweet:

I know. Go change your pants.
In exactly two minutes, a fellow CPA sent me this reply:

I didn't know if this guy was being meta-sarcastic or the r-word. Didn't matter because I was like,

and high-fived myself (really just clapped once over my head). But this guys doesn't stop:

Yeah. You saw that right. I retweeted it. I did so to show that Anil is not just a modifier for the word "retentive," and I came back with this:

Not great. Definitely not as good as when Chad Allen jumped on the dog pile:

Then I changed my pants. Mr. Rathofkhan finally realized what was happening.

But I don't think he really laughed out loud.
And that was just the beginning of my Thursday.
At 1:35 MDT, I received an email from the CPE Manager of my state society regarding a presentation I was scheduled to give at a luncheon for my local chapter. The title of my presentation was "How to Cheat Your Way to the Highest Levels of Professional Ethics."
I know. Go change your pants.
In the email, the CPE Manager informed me that the CEO of the state society "has received some phone calls/emails from members who are offended by the title," and she asked "if it would be possible to modify the name of the chapter event."
So it appears as though multiple members of my state society have their heads lodged in their colon to the point where they're offended by the title of a presentation, a self-contradictory title of a presentation.
This was my response:
While it's certainly possible to modify the name of my presentation, I'd prefer not to. I think it's great that some members of the UACPA are offended by the title "How to Cheat Your Way to the Highest Levels of Professional Ethics" because if those people showed up at the luncheon, they'd hate it. By self-selecting out of the event, they'll avoid wasting their time.

I'm a CPA/comedian. That's my niche, and the presentation's title communicates that. I'm going to deliver high-quality, insightful ethics training that's unexpectedly entertaining and doesn't suck.

That being said, I would consider changing the topic of my presentation from ethics to communication. I'd call it "How to Use Sarcasm to Make Sure People Know You're Serious."
They let me keep the title. My UACPA pride increased that day.
Ron Baker once said, "A profession that can't laugh at itself is a profession in decline." He was wrong, but I appreciate the sentiment.
The accounting profession is not a profession that can't laugh at itself; it's a profession that refuses to laugh at itself. We take ourselves way too seriously, and – thanks to Sarbanes-Oxley and an increasingly complex tax code – we're not going anywhere. We're not in decline, but people don't really like us at parties. So what Ron Baker meant was, "A profession that can't laugh at itself is a profession with a declining number of invitations to parties."
Computer nerds figured it out. They are now embraced in our society and in pop culture. They did it through self-deprecating humor. They now fit in because they were willing to admit that they didn't fit in. People like their jokes because now the punchline is that you won't get their jokes. Plus they play videogames and make $#!t-tons of money.
Our profession will be better off once we stop taking ourselves so damn seriously. Computer nerds did it with self-deprecation. We can catch up using double-declining self-deprecation.
Greg was born in Akron, Ohio, in the shadow of the Firestone tire factory. He began to swim competitively when he was eight, swimming for the Mountlake Terrace Lemmings. He graduated in 1995 from the University of Washington with a math degree. He chose math for the ladies. After serving ten-years as an 8th grade math teacher, he decided it was time for a career change, mainly because he "couldn't stand those little bastards." He began his accounting career with a local CPA firm in Orem, Utah, where he consistently failed the QuickBooks ProAdvisor advanced certification exam. Greg currently works as the Controller for the Utah Valley Physicians Plaza. He lives in Provo, Utah, with his wife and two kids. He enjoys eating maple bars, drinking Diet Pepsi, and swearing.