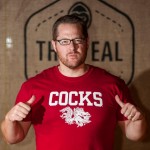 Not sure if you knew it, but you can hire a company to kidnap you. It's called Videogames Adventure Services ("VAS"), but they don't sell videogames. They kidnap you.
Here's how it works. You pay them a metric butt ton of money, sign ten kiloturds of legal documents, pass an invasive medical prostate exam, and then you get kidnapped. You and the company design the broad parameters of your kidnapping, including a predetermined kidnapping window (usually six weeks long) that begins as soon as you lift the pen from the last legal document.
A cast of VAS employees is deployed to produce your "customized reality adventure experience," where they abduct you and beat the hell out of you while you try to escape. I guess. According to their website, "The Adventures we offer range dramatically in scope, narrative and design."
And they videotape the whole thing, so you can relive the horror in the comfort of your own psychologist's office.
During the course of multiple consultations with VAS prior to your kidnapping, you are given a "break word" and an "end word." You can use each word only once. When you use your break word, they pause the beatings and psychological torture, bring in a moderator, and honestly answer any and all of your questions. (During the game, the VAS cast will lie their butts off in order to create the experience.) The end word is exactly what you think it is. You're no Liam Neeson, but you do have a very particular set of skills, skills you have acquired over a very long career, one of which should be the ability to figure out what an end word is.
VAS kidnappings illustrate several core ideas that we push in Thriveal.
Don't Bill Your Time
Zach Cregger, a stand up comic and former VAS employee, said, "Usually [VAS clients] have weeks of waiting in anticipation of what's going to happen, which is most people's favorite part. … People talk about how they miss that." Throughout the kidnapping window, the clients live in a heightened state of consciousness and wet pants. And during that window VAS does nothing. They deliver the most value when they're doing nothing at all, and if they were stupid enough to bill by the hour, they would fail to capture any of that value.
Experiences Are More Valuable Than Services
VAS kicks everyone's butt when it comes to cashing in on the experience economy. Their only offering is a high-value, once-in-a-lifetime, unforgettable, unrepeatable experience. And a DVD of it. A journalist at the New York Times interviewed a VAS client:
I asked Margo what she got out of her involvement with V.A.S., for which she paid $7,000. "I'm not sure," she replied. … Part of her simply enjoyed being the center of attention. It was often a brutal experience, she admitted, but "it was my experience."
The founder of VAS, Brock Enright, started experimenting with planned kidnappings as a hobby that became a small side business and now has a life of its own. But what about you? You're not doing jack squat to experiment with experience economy innovations at your firm. Why not?
(I'd like to create custom April Fools pranks for businesses where I'm introduced to the company as a high-powered consultant and start suggesting horrible business ideas, and the boss – who's in on it – pretends to totally love all of them. Any takers?)
The experience economy is the Wild West. The right customers will pay big bucks for the right experience, even when – on some level – the experience intentionally sucks donk.
Find Your Niche
VAS clients are adrenaline junkies who want to test their physical and psychological limits. Some people skydive. Some people climb Mount Everest. And some people pay to get tackled by strangers, taken to an abandoned warehouse, and ass-whooped. VAS clients aren't just thrill seekers. They're psycho thrill seekers who hate the fact that they've got lots of money. That's a pretty sweet niche, and it demands a premium price tag.
Price Up Front
A foreign filmmaker was interested in documenting a VAS kidnapping. Due to travel constraints, the typical kidnapping window was reduced from six weeks to ten days. The window began the moment the client finished signing the final legal document. As soon as he set down his pen, everybody in the room jumped him. He said his end word in less than ten seconds.
Customer value is higher before the service is performed. If VAS tried to price this particular kidnapping afterwards, they would have gotten almost nothing. Agree on a price up front and get paid up front because the experience you provide is most valuable before you even begin.
A great example of all these ideas is Jason Blumer. He's a "business coach" which means he waterboards people once a week until they go paperless.
(To hear a very interesting – and very salty – explanation of the VAS experience, listen to the You Made It Weird podcast Episode 144, starting at minute 51. Pete Holmes interviews Zach Cregger about his time working for VAS.)
Greg was born in Akron, Ohio, in the shadow of the Firestone tire factory. He began to swim competitively when he was eight, swimming for the Mountlake Terrace Lemmings. He graduated in 1995 from the University of Washington with a math degree. He chose math for the ladies. After serving ten-years as an 8th grade math teacher, he decided it was time for a career change, mainly because he "couldn't stand those little bastards." He began his accounting career with a local CPA firm in Orem, Utah, where he consistently failed the QuickBooks ProAdvisor advanced certification exam. Greg currently works as the Controller for the Utah Valley Physicians Plaza. He lives in Provo, Utah, with his wife and two kids. He enjoys eating maple bars, drinking Diet Pepsi, and swearing.