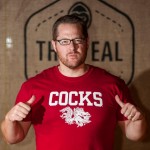 A couple months ago I was working on a joke about Bitcoin and other virtual currencies. The punchline needed an extremely devalued, exotic currency. So I googled "devalued currency," and that's when I found out that dongs are the currency of Vietnam.
Disclaimer: If you Google "Vietnamese Dong," you will see questionable websites with banners that say things like, "In a Down Market, the Dong Stays Up" and "Dong Talk." Search results also include various graphic images like the following: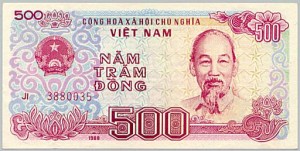 As soon as I learned about them, I wanted to get my hands on some dongs. So I sent an email to my banker with the subject "Can you help me get a hold of some dongs?"
When I thought about what kind of dongs I wanted, I discovered that I was interested in very specific types of dongs. First off, I wanted physical dongs. I wasn't interested in logging onto some kind of dong website. I wanted actual dongs that I could touch. Also, I wasn't interested in large bills. I wanted my dongs as small as possible.
Price sensitivity is an issue. Dongs can go up and down quite a bit in one day. As of the writing of this article, $1 USD can buy you 21,276.60 dongs. Apparently dongs are so sensitive that Zions First National Bank refuses to touch them.
Most people looking to score some dongs online might start with Craigslist. I decided to start with eBay. Unlike my bank, dongs were plentiful on eBay. I started bidding on some random dongs here and there. Then I stumbled across exactly what I was looking for: 50,000 dongs (one hundred 500-dong notes) for $20 (plus $4.49 for shipping). These were uncirculated notes. I was getting 100 crisp, clean, virgin dongs.
I also won an auction for a 20-dong note for $0.80 which included shipping. It was an old wrinkly dong from 1964. It wasn't my best decision. I basically just jumped on the first dong I saw. I'm a little ashamed of my poor judgment, but I guess we all have regrets.
Altogether, I purchased 50,020 dongs for $25.29. In other words, for $1 USD, I bought 1977.86 dongs. I purchased dongs for over 10 times their value because I'm very picky about my dongs.
My purpose for amassing dongs was to sell them after my stand up shows. One day I came home from work to find my mailbox stuffed with dongs, and then it started. In one weekend, I sold 3520 dongs for $8.00. Thats 440 dongs for $1 USD – almost 50 times their actual value! The margin on my dongs was 350 percent!
And then it got even better. On August 27, I performed stand up for a fundraiser for the Provo LGBTQ Pride Festival. I figured that people attending a LGBTQ pride festival fundraiser would love dongs. That night I sold 2500 dongs for $25.00 – one hundred dongs for $1 USD, over 200 times their value on the foreign exchange market.
One of the unintended benefits of dabbling in dongs is that it became crystal clear that there is no such thing as a commodity. Although everything is commoditizable, nothing is impervious to differentiation.
Currency should be the ultimate commodity. If you've seen one dong, you've seen them all. But I happily bought dongs for 10 times their value, and people gladly purchased my dongs for 20 times what I paid for them.
I'm not the low cost leader when it comes to my dongs. Rather, I take ordinary dongs, I create customers by giving them a memorable dong-related experience, and they pay big money to get their hands on my dongs.
If your tax or assurance services are getting commoditized, just start thinking about dongs.
Greg was born in Akron, Ohio, in the shadow of the Firestone tire factory. He began to swim competitively when he was eight, swimming for the Mountlake Terrace Lemmings. He graduated in 1995 from the University of Washington with a math degree. He chose math for the ladies. After serving ten-years as an 8th grade math teacher, he decided it was time for a career change, mainly because he "couldn't stand those little bastards." He began his accounting career with a local CPA firm in Orem, Utah, where he consistently failed the QuickBooks ProAdvisor advanced certification exam. Greg currently works as the Controller for the Utah Valley Physicians Plaza. He lives in Provo, Utah, with his wife and two kids. He enjoys eating maple bars, drinking Diet Pepsi, and swearing.