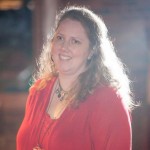 I recently listened to Brene Brown on audible. It wasn't a book, but rather a series of talks she gave, so it was more informal and very entertaining. But it was also fascinating, especially the ideas she presented about what it means to belong, rather than to fit in.
"Fitting in and belonging are not the same thing, and, in fact, fitting in gets in the way of belonging. Fitting in is about assessing a situation and becoming who you need to be to be accepted. Belonging on the other hand, doesn't require us to change who we are; it requires us to be who we are." 
When you go to a new place, say Deeper Weekend 2013 (REGISTER HERE!!), you may meet some new people. It's natural that you'll want them to like you. You'll talk about your trip to Greenville and how cool our downtown is. You'll look around to see who's there that you already know. And you may really try to fit in. We often do this by finding the commonality of the group. In this case, it would probably be Thriveal or CPA firms or being small business owners. It may be around the food or drink we serve. Sometimes we even find a common enemy.
When we try to fit in, we adjust to the group. We are one way in church, one way at the PTA meeting, one way in the office, and another way at home. Fitting in is safe. We learn what is expected and we behave according to those rules.
But when we don't try to fit in, when we just show up and be who we are, we are vulnerable. We are taking a risk. Maybe we'll be liked and appreciated, or maybe we won't. But here's the pay off. When we take that risk, and we find out that we really are okay, we find belonging.
One goal in Thriveal is for our community to all feel as though they belong. That doesn't mean we are a group for everyone though. We give the Manifesto to potential new members, and Jason spends about an hour talking to each person curious about our community. However, once a person is in, they are supported. And it's okay if they don't do everything the way the majority of the group does. We are not a best practices group. We don't require people to value price or only use cloud products. You're not in trouble if you use paper! You belong because you care about your customers and you work hard to create and implement ways to serve them well.
Are you familiar with this concept or with Brene Brown? Please share your thoughts in the comments.
Jennifer earned her degree in Early Childhood Education from Winthrop University. She has taught in public school as well as homeschooled her own children for many years. Jennifer serves the Thriveal members as the Community Manager. She also produces two podcasts, The Thrivecast and The Businessology Show and serves as the Director of Operations for Blumer & Associates CPAs. She loves college football, especially the South Carolina Gamecocks. You can read more from Jennifer at her personal blog, Finally Jennifer. Jennifer and her husband, Jason Blumer, live in Greenville, SC with their three beautiful daughters and their two dogs, Rose and Jessie.