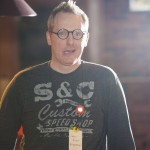 My wife, Jennifer, has been going through some changes in her life to become more healthy in her life, her work, her body, and her relationships (read more about her journey 
on her blog
). She finally got me into her 5:00 am trips to 
Greenville Adventure Bootcamp
. Wow! I've never attempted exercises that are so difficult, so scary, but so satisfying! Here's a video of me barely attempting hermit crabs:
One thing that has surprised me is that while at Bootcamp, I am able to do more than I think I can. The exercises push you to the end of your physical abilities. But surmounting the limit of your mental abilities is really the key (and much harder). The body can do more than your mind thinks it can. Heather Coley, the trainer that leads Greenville Adventure Bootcamp, makes this fact clear during bootcamp. She monitors the 15 to 20 bootcamp community each morning and personally challenges members when she can. When I've taken my body as far as I can, I stop. But Heather says "Give me 5 more," and to my surprise, I can do it. When I am doing a very difficult exercise, she asks me to do it differently (which is more effective, but much more difficult). And to my surprise, I have more in me than I think I do.
These exercise examples of my ability to achieve more than I think I can should come as no surprise to me. I coach people to do the same things in their businesses. It's interesting how this bootcamp experience mirrors the entrepreneur running a business.
Here are 5 thoughts…
Business Lessons I've Learned from Bootcamp
1. My mental capabilities often fool me. When at bootcamp, I've tapped my mental capabilities, and I need an outside coach to say, "you can do more." As a coach, I am often more aware of what others can do, and less aware of what I can accomplish myself. This is the value of coaching – a person with emotional distance from my pain and difficulty can more clearly see the extent of my mental abilities than I can.
2. I am often not the best judge of my abilities. It's odd to admit that I can not often rightly judge the extent of my abilities. Similar to #1 above, a trained and skilled coach has specific knowledge that I need but can not obtain on my own. I have to pay a coach that knows more about my abilities than I do. Again, this is such a weird feeling to work with someone who is better judge of my abilities than I am.
3. If you are standing still, you are actually going backwards. Once you go to your first bootcamp, you quickly learn that all those years of a sedentary life have actually taken you backwards. You think you just stay the same, but our physical bodies are deteriorating. So in reality, if you are staying still (and sitting on the couch), you are actually going backwards. I see our profession guilty of this belief so often. A lot of firms are actually still operating under the same business model that they started with back in the 1970s. You can not continue to do this and still move forward. Staying the same means going backwards.
4. Fear is involved in making lasting and great changes (and I need help overcoming those fears). The first time you go to bootcamp, you are scared out of your mind. 'Will you be able to do it?' 'Will people make fun of me?' 'Will I hurt myself?'  My wife ultimately helped me to overcome these fears because she did it first – I followed when I saw she didn't die each morning. Anytime we do new things, fear will always raise it's ugly head. It's part of the human journey. I can now expect fear in new things, know it probably won't kill me, and will probably even make me stronger. As a coach, I know that fear is a core ingredient we must overcome eventually. Once fear is overcome, a more accurate awareness of the abilities of the coachee gives them permission to tackle the next fear head on.
5. The community makes me stronger. Bootcamp is done in a community of people also trying hard to survive this experience each morning. We are all being challenged together. Some are father along than others, but we are all really after the same thing – to do better than our personal best. We are all really trying to beat ourselves, not each other. The Greenville Adventure Bootcamp community encourages each other, cheers each other on, challenges each other, and cares for each other. Walking a journey towards improvement is a hard journey to walk alone. A community is a multi-stranded cord not so easily broken. Thriveal is a community, and I walk taller, try harder things, and achieve a lot more than I ever could on my own.
So my trips to improve my body, and my inspiration from Jennifer, have highlighted so many things about my business too. I'll take these ideas to the new wall I face in my business. I know I can achieve more than I think I can. I just need to keep a community at my side to remind me of this fact.
I'm not going backwards anymore by sitting still!
Jason is the Founder of Thriveal and the Chief Innovative Officer of his CPA firm, Blumer & Associates. He is the co-host of the Thrivecast and The Businessology Show and speaks and writes frequently for CPAs and creatives, his firm's chosen niche. Jason loves to watch documentaries on just about anything. He lives in Greenville, SC with his wife and their three children. Stay connected with Jason by signing up at JasonBlumer.com.