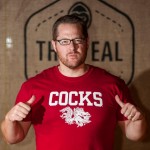 I recently had an Oprah-quality million-dollar idea.
And this million-dollar idea is way better than my 
Johnny Jump Up
 Multi-Room Integrated Track System
1
 idea. The JJUMRITS might've made someone a million bucks, but it also might've been extremely unsafe for babies which – turns out – is horrible for PR. And for babies.
I also had a million-dollar idea for a biometric attendance-taker machine for high schools and junior highs3. That idea is like a million dollars of lunch money in a nerd's pocket, just waiting for someone to punch it out of its zip-lock sandwich bag4 and into someone's bank account.
But my new million-dollar idea will blow your damn mind. It brings accounting services into the 
experience economy
. It's innovation that your customers don't know they need and don't believe they can have. And it all came about as a result of 
my experiment with CrossFit UV
. CrossFit took the unpleasant and commoditizable service of gym membership, and made it a memorable experience by building community, creating competition, and helping their members achieve their dreams.
My new million-dollar idea is called "The Idea Bordello"5 because it's a place where ideas have sex with each other for money. Wait. Come back. That's just a working title. A very skanky working title. Stay with me. Everything's going to make sense. Non-naughty sense.
The business environment in America is changing. Businesses are using fewer traditional employees (we've seen that with the unemployment rate being over 7.5% for the past four years), more professionals are becoming independent contractors (micro-entrepreneurs), the shift toward a mobile/virtual/ROWE workforce seems inevitable, and our complicated regulatory environment grows more complex all the time. The Idea Bordello is a platform for CPAs to use their expertise to serve people facing the realities of the new American business environment.
The Idea Bordello is a CPA firm that is designed as a 
third place
 for your customers. The customers' fixed-price Idea Bordello membership fee gives them – among other things – access to this third place. The vibe in the Idea Bordello is a combination of Silicon Valley startup and Barnes & Noble. Your members (no longer customers or clients) can work there as much as they want, and have direct access to you – their trusted business adviser – as much as they need.
The owners and accountants at the Idea Bordello actively build community among their members.  Part of the value the Idea Bordello provides to its 
solopreneur
 members is the relationships between members and the resultant cross-pollination of ideas. If one of your members hasn't shown up for awhile, they are contacted to see if they're doing okay and if there's anything you can do for them. It's probably a good idea to make sure you have a decent contingent of 
Includers and Relators
6
 on your team.
As a CPA, you would be able to serve these professionals in a way that blows their damn mind. If they have questions about entity type, tax consequences, payroll, retirement, venture capital, expansion, transaction structure, whatever, you and your team are there to answer those questions and take away the fear of the new American economy. Fledgling entrepreneurs are often overwhelmed and intimidated by the minutiae of running a business, like business licenses and estimated tax payments. Members of the Idea Bordello are buying desperately needed confidence – confidence that comes from you.
The physical space of the Idea Bordello would be designed in such a way that the owners and accountants would love to hang out there. When a potential member is introduced to the Idea Bordello, their first thought needs to be, "If I worked here, my dreams would come true." And vetting new members would take on extra importance because they'd be the people you'd be hanging out with all day long.
I'm seeing fresh coffee, a soda fountain, a foosball table7, and an amazing library of the best business books.
When I got the vision for the Idea Bordello, it kept me up at night because it would be the coolest CPA firm to ever exist. Manifest destiny would kick in, and before you could say "Hans Hoogervorst" three times, there would be Idea Bordello franchises in all of the major cities throughout the country, allowing entrepreneurs to enjoy their membership no matter where their travel takes them, and to help them cross-pollinate without boundaries.
But I can't do it. If I tried to bring the Idea Bordello out of my frontal cortex and into the real world, I'd end up on the cover of Forbes, a hallow shell of a billionaire because it's not my "Why." The Idea Bordello doesn't make boring stuff funny. Me getting the vision for the Idea Bordello is like someone with a morbid wheat allergy seeing the world's most perfect maple bar. I could eat the donut, but I'd die inside.
Therefore, I give this idea to you, guy in your underpants8 in bed reading this on your laptop. If not as an actual business model, then at least as inspiration for solving the problem of how to make what you do a highly desirable experience rather than a service with cooties.
1The traditional Johnny Jump Up attaches to a door frame. The Multi-Room Integrated Track System attaches your Johnny Jump Up to a metal track that is professionally installed in the ceiling of your home, giving parents the convenience of sliding their baby from room to room without ever having to interrupt baby's jumping. It's especially fun to send your baby downstairs2.
2In theory.
3Teachers no longer have to spend instructional time taking attendance (which they hate doing). Rather students would swipe their finger (not that finger) on a bank of finger-print readers prior to the start of class to avoid being tardy or absent. I'm sure some weirdo from South Carolina would freak out about privacy concerns, but (assuming your kid has ever used Google or Facebook) you can't protect what you don't have.
4Nerds tend to keep their money in zip-lock sandwich bags.
5Another possible name is "The Serendipity Lab," except I hate the word "serendipity." Not because of what it means; the way it sounds just pisses me off. Like "jammies."
6The word was "Relator" not "Realtor." Slow down the read speed, dummy.
7
The foosball table would be in a separate room so it doesn't disturb the non-foosball players when me and
McCarty
lay the smack down on an pair of punks with something to prove. Sorry to drag you into this, Jimmy.
8Not jammies!
Greg was born in Akron, Ohio, in the shadow of the Firestone tire factory. He began to swim competitively when he was eight, swimming for the Mountlake Terrace Lemmings. He graduated in 1995 from the University of Washington with a math degree. He chose math for the ladies. After serving ten-years as an 8th grade math teacher, he decided it was time for a career change, mainly because he "couldn't stand those little bastards." He began his accounting career with a local CPA firm in Orem, Utah, where he consistently failed the QuickBooks ProAdvisor advanced certification exam. Greg currently works as the Controller for the Utah Valley Physicians Plaza. He lives in Provo, Utah, with his wife and two kids. He enjoys eating maple bars, drinking Diet Pepsi, and swearing.