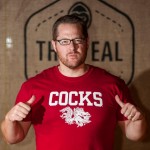 How do you take a service offering that can be easily commoditized and transform it into a highly sought-after experience that customers will pay a premium for?
Great question.
You can read about how to do it in Joe Pine and James Gilmore's book The Experience Economy, you can listen to Episode 19 of the THRIVEcast, or you can expose yourself directly to the experience economy by visiting your local CrossFit Gym.
This month I recorded a video blog where I worked out with the CrossFit fanatics to see what they're doing right, and to try to glean some lessons that we can apply to our CPA firms.
CrossFit creates memorable experiences for their members by creating a sense of community, by fostering healthy competition among their members, and by inspiring their members to see that CrossFit will help them achieve their dreams.
Are you truly building a sense of community among your clients? Is it conceivable that your customers could think of themselves as "members" of your firm rather than "clients"? How can we as innovative firms introduce an element of competition among our customers? Do your customers believe that you will help them achieve their dreams?
If your CPA firm can do all that, then you win.
Greg was born in Akron, Ohio, in the shadow of the Firestone tire factory. He began to swim competitively when he was eight, swimming for the Mountlake Terrace Lemmings. He graduated in 1995 from the University of Washington with a math degree. He chose math for the ladies.  After serving ten-years as an 8th grade math teacher, he decided it was time for a career change, mainly because he "couldn't stand those little bastards." He began his accounting career with a local CPA firm in Orem, Utah, where he consistently failed the QuickBooks ProAdvisor advanced certification exam.  Greg currently works as the Controller for the Utah Valley Physicians Plaza. He lives in Provo, Utah, with his wife and two kids. He enjoys eating maple bars, drinking Diet Pepsi, and swearing.