I've mentioned before that Thriveal has three levels of membership. You can be an Artisan, a Craftsman, or a Builder. Let's talk about Builders today.
A Builder can be an accountant at any level working in an accounting or CPA firm. Ideally, they would hope to be owners one day, and many times, they already are.
What do Builders get with their membership?
Thriveal swag – Builders get a Thriveal tee shirt, stickers, a mug, and some round glasses (like in our logo). They may also get other surprises throughout the year.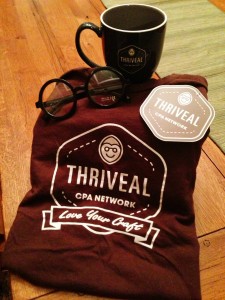 Access to our private LinkedIn group – Members can discuss ANYTHING, accounting or personal and everything in between.
Access to Icon, a gamification site – Earn points for participation by asking and answering questions and by voting for your favorite answers.
Thriveal logo – Tell the world you are a member of the best CPA group in the world by showing off our logo on your website
Attendance at our annual Software Week – From May 13-17, we will have up to ten demonstrations from software companies geared toward CPA firms and their customers. Last year we had demos from Bill.com, Conceptboard, Fathom, Saasu, Intuit, LessAccounting, Wave, and Freshbooks.
Attendance at the 6 Community Calls Each Year – Every other month, Thriveal members get together on GoToWebinar and discuss a topic relevant to the profession or to running a firm. We've discussed pricing, client selection, processes, building a niche, capturing knowledge, and more.
Generally, we recommend people join at the Craftsman level to get the most out of their membership. However, the Builder level is a great option for those who are ready to check us out. Stacey Byrne, a new Builder level member, shared why she chose this level, "Making the shift from owning a traditional accounting service to owning an innovative business that changes people's lives is not easy on your own. Joining the Builder level of Thriveal has allowed me to tap into the knowledge and vision of the Network in a way that I can manage with my schedule and budget."
Need to know more? Let us know you are curious about the Builder level. You can talk to Jason, to me, or to a Thriveal member to give you the real inside scoop.