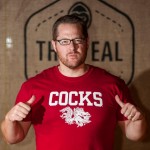 People often see me driving my 2007 Honda Civic, rocking my Old Navy jeans, and talking on my Blackberry Pearl, and they ask me, "Hey, Greg, how did you get so fricking successful?" Great question.
I'm so freaking successful because I'm so freaking happy.
How happy am I? I'm so happy, I only text message using emoticons, toddlers playing with bubbles are clinically depressed compared to me, and I take Ecstasy when I need to get serious.
Please note that I'm not happy because I'm successful. I'm successful because I'm happy. Read more