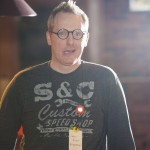 The firm of the future does not exist. Never has, never will. As my colleague Adrian Simmons says, there will be "firms of the futures." Amen. There currently are, and will be in the future, many different types of firms doing many different things, led by many different leaders. There is no 'right way' when building an enterprise. Let's stop searching for what does not exist. Building this elusive future firm keeps us focused on each other, a mistake that is beginning to become obvious to a new generation of accountants. We focus on ourselves by:
-surveying each other (the results are not changing us),
-benchmarking against one another's business models (copying leads to mediocrity),
-moving to the cloud (the never-ending distraction),
-merging and acquiring each other (we're still the same, just bigger), and
-eking out the never-ending efficiencies within our processes (but wealth creation is decidedly inefficient)
In my opinion, our profession is not headed towards changing our customers' lives. We are only staying the same, just at a faster pace than before. Has our profession changed or created anything new in the past 25 years? We are a fearful bunch, and the state of my beloved profession is starting to worry me. We are even still teaching the accountants of the future the same way I was taught in the early 90s. I'm scared for us, and this has got to stop. We must become business strategists, enterprise builders, life changers, and lovers of people. We can become these things, but we must first learn what it means to build, run, and lead a real enterprise.